Motor Control Buyers
We Buy New & Used motor control centers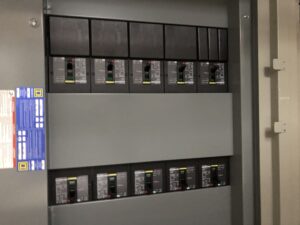 Everyone from local electrical contractors to National product manufacturers trusts Davis Exporters for fair and accurate equipment appraisals and convenient logistics arrangements. We'll do all the heavy lifting and make the arrangements necessary to ensure safe and speedy removal of your motor control centers and/or other equipment.
Get Rid of Your Overstock Motor Control Centers
We know that for those in the electrical and industrial fields, facility and warehouse space is important. Large equipment like motor control centers are sometimes considered idle assets when they don't have to be. You can recover fair value for your electrical equipment without compromising, jumping through hoops, or being low-balled.
Getting an estimate from Davis Exporters is simple in three easy ways. Call the number below to speak directly with one of our agents,  or use our contact form to tell us about what you have and send any pictures of the items, or email us directly at pierre@davisexporters.com.
More than just Motor Controls – We Buy a Variety of Electrical Equipment
If you have more to get rid of than motor control centers, we can help you with larger liquidations of any and all types of electrical surplus. For well over 15 years, we've been a trusted partner to many electricians large and small, as well as other industrial professions. We even buy large industrial items like chillers, generators, and more.
The electrical items we buy include but aren't limited to:
Circuit Breakers

Transformers

Bus Plugs

Motor Control Centers (MCC)

Switch Gear

Disconnects

Air Circuit Breakers

Generators

and lots more
We Service all 50 Sates
Alabama, Alaska, Arizona, Arkansas, California, Colorado, Connecticut, Delaware, Florida, Georgia, Hawaii, Idaho, Illinois, Indiana, Iowa, Kansas, Kentucky, Louisiana, Maine, Maryland, Massachusetts, Michigan, Minnesota, Mississippi, Missouri, Montana, Nebraska, Nevada, New Hampshire, New Jersey, New Mexico, New York, North Carolina, North Dakota, Ohio, Oklahoma, Oregon, Pennsylvania, Rhode Island, South Carolina, South Dakota, Tennessee, Texas, Utah, Vermont, Virginia, Washington, West Virginia, Wisconsin, Wyoming.
We will come to you no matter where you are in the US.
You can reach Davis Exporters at:  (866) 767-7740