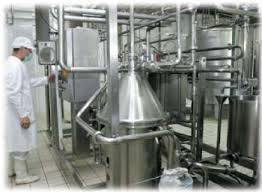 Food Processing Equipment
The Food Processing Equipment Industry
written by: venkyb
The food processing equipment industry is a high growth sector worldwide. Consumption of processed food is growing at a rapid pace throughout the world. It is estimated that around 50,000 new food products have been introduced into the US market in the last three decades alone. Major manufacturers and exporters of food processing equipment include USA, Germany, Denmark, Netherlands, Australia, Italy and Japan.
The industry can be broadly classified into 3 categories: food processing machinery; food packaging machinery and utilities that include machinery related to cleaning and purifying the water, air etc. used in processing and preserving food. The food processing equipment industry covers a vast area of operation including meat,poultry and egg processing; dairy products manufacturing; fruits and vegetable processing; grain mills products manufacturing; bakery products manufacturing; sugar and confectionery products; processing of fish and other sea foods; forming, filling, and sealing equipment; wrapping and packaging equipment; refrigeration and quick freeze equipment; marking and inspection equipment; and finally food preparation and control equipment.
The turnover of food processing equipment industry was around $513 billion in 2012 according to a market intelligence report by Frost and Sullivan and is expected to grow to $636 billion by 2019. The major driver of growth in the industry is the increasing consumption of processed food in India, China and many countries in Africa. The technology used in the food processing industry is rapidly changing with new unique ideas being implemented primarily due to increasing safety concerns due to contamination and tightening of safety norms by the governments. Environmental concerns are also changing the landscape of food processing industry. Recycling of packaging material, use of biodegradable materials for packaging, reducing power consumption in processing of food are some of the steps being taken for addressing them. Manufacturing biodegradable plastics using the latest nano technology for packaging food products is being attempted in some countries.

Tell us a little about the surplus you are looking to sell, and a Davis Exporters associate will get in touch with you as soon as possible (always within 24 hrs). For immediate assistance: (866) 767-7740